The left side of Rydal Hill, was coned off to prevent parking, and further damage to the road, following the impact of Storm Desmond..
The road is open for church attenders, locals needing access to their properties, and for visitors to those properties, Rydal Hall and Rydal Mount. The road is open as usual for access, deliveries etc.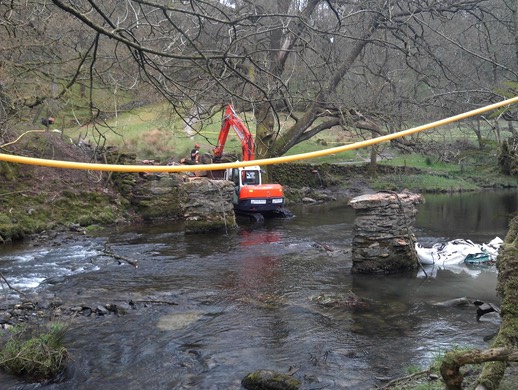 Dipper Bridgehas been closed since Storm Desmond. Work has now started on reconstruction.  It has taken organisation as it carries gas & electric, and the old Estate water supply is just below one of the piers. 
 It is good news as LDNPA had said that the repair (replacement!) of the bridge was a priority, but would not happen until mid-July, but LDNPA later said that they would finance this, get on with the work now, and get their EU money later.
The new bridge will be a little wider, to allow wheel chairs to use it.